Titanium Grind Plates
---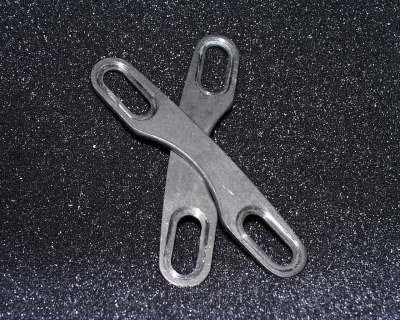 TITANIUM GRIND PLATES
Universal, one size fits all popular Aggressive skates, Cost $29.95
---
One of our designers is a "In-Line Skating" enthusiast. He is mostly involved in "Aggressive" skating and frequents local skate parks. Like most skaters, who are enthusiastic about their sport, he is continually looking for ways to improve his performance. This can be done through practice and instruction from more experienced skaters, but, also through "fine tuning" your equipment. Seemingly, all you can do to enhance the performance of your skates is to replace the wheels and bearings with "High Performance" units. However, there is one additional component which is frequently neglected. This is the GRIND PLATE. Typically, GRIND PLATES are constructed of either plastic or steel. The plastic plates are most suitable for street application when "grinding" along wooden or concrete forms. They are cheap and inconsistent in quality. But, for street applications, they will do. The steel plate is typically used along metal rails and on harder, smoother wood, such as is found in many skate parks and certain other "unofficial" locations frequented by skaters looking for a bit of diversity. Our designer had an idea to produce GRIND PLATES for his ROLLERBLADE brand In-Line skates from TITANIUM. The idea was that Titanium is harder than steel and has more "spring". Thus, it would take the skater further with less effort, while wearing longer and taking more abuse. Also, since he was designing a product for himself he wanted to improve on the actual design of the steel plates he was using. The steel plates were produced very inexpensively by a simple stamping operation. This process leaves a sharp edge on the plate which bites harshly into the surface the skater is grinding on and, thus, acts to rapidly slow the skater down. When designing his TITANIUM plates he put a high quality rounded (officially called radiused) edge on the plate. The theory was that this would offer a frictionless edge and speed the skater along.

So, the design was completed. The material selected was aircraft quality 3 mm TITANIUM plate. The GRIND PLATES were cut out using a high pressure stream of water. Then, advanced computer aided tools were used to precision machine the bolt attaching holes, washer groves and mill the exact radius on the underside of the plate. The finished product was then polished to remove any burrs and to give a smooth finish.

Now it was time to test the product. Several samples were given to local "Pros" who put them through the mill. Their comments were:

"They were like riding on glass. Especially on rails"!

"They sound great"!!!

"They wear like diamond. After a week of hard grinding they still looked like new"!

"The bright silver color looks cool"

Based on your test results, we have decided to add these products to our product line in a limited production.
---
---
Now Order Direct Using VISA and MasterCard!
---
To place an order using VISA or Mastercard please contact:
Box 411687
Kansas City, MO 64141
Phone: 800-821-5157
Prices do not include applicable sales tax, shipping and handling.
---

---
-DEALER INQUIRIES WELCOMED-
For wholesale distribution data please contact Sales at (757) 546-7007 or fax (757) 546-0371.